A reader asks, "Where can I buy pretty linen fabric in Laoag?"
Happy to have found time to answer the question. There are more or less 5 fabric stores in Laoag, but the one that satisfies my creative tendencies is One.O.5ive on Rizal St. (east of the Laoag Supermarket). The fabric and accessories place is just a portion of the department store that used to be the Laoag Specialty Shop. If the name One.O.5ive makes you wonder, it is because it is the second generation advancement of the family that co-managed for decades the old 5 Sisters Superstore on the same street. Some of the wonderful staff at the old superstore moved with them. Manang Celia, for instance, is positioned at the tela area just like in the past. There's no one as patient as her when it comes to customer service and relations. You know, women are born fickle. Stacks on stacks of beautiful fabric can be dizzying. But the store also carries hard to find embellishments, rhinestones, Spanish lace, imported appliques, ribbons, buttons, a wide range of zippers (and not just the basic colors), accessories such as long gloves, brooches, crowns, jeweled bibs, corsages, curtain fabric and really so much more for your crafts and sewing needs.
Stretch jersey in many colors.
Tela for dusters.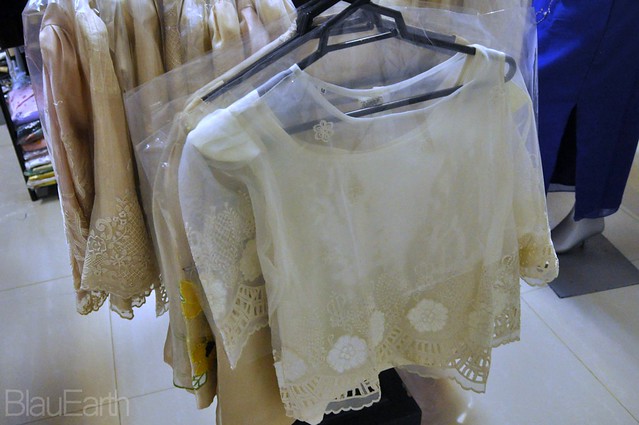 I saw these ready-made Filipiniana on my way down.
Photographed by Blauearth © Blauearth™ All Rights Reserved 2009-2014