Back to urban foraging. I was thinking of Evergreen, but my friend Konee suggested Ayenz Place, a few steps away from the Bangui jeepney terminal and so near Hotel Tiffany and Isabel Suites. It is a budget foodhouse that serves not Ilocano but socialistic Filipino food such as adobo, pork spareribs, beef steak, etc.
A 50-peso meal is inclusive of soup, itlog na maalat (red egg) with fresh homegrown Ilocos tomatoes. They also serve silogs and noodle meals. For the nasalimetmet a Ilocano, students and budget travelers, Ayenz Place is a fitting option. Meals are not imot size. I mean not tiny for 50 pesos.
It also gets busy during merienda time, especially on work and school days, according to neighbor Butch, who ended up picking the tab.
Chanced upon the Payoyos eating at their own place. A good sign.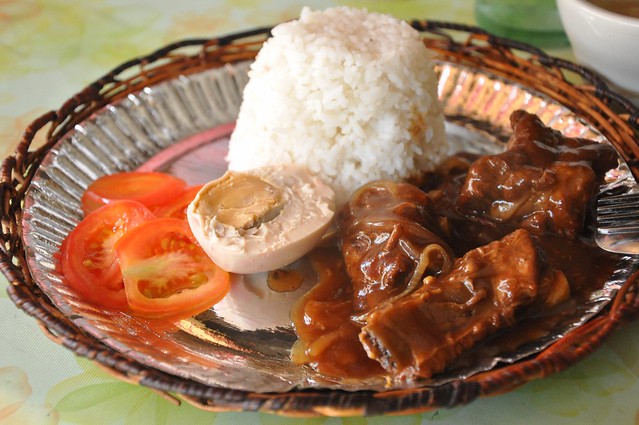 I liked my beef spare ribs, but I was dreaming of fatty red egg.
Ayenz Place D. Samonte St. cor Gen Segundo Ave, Laoag City
Photographed by Blauearth © Blauearth™ All Rights Reserved 2009-2014